Do You Have the Ability to Draw People as a Professional Speaker?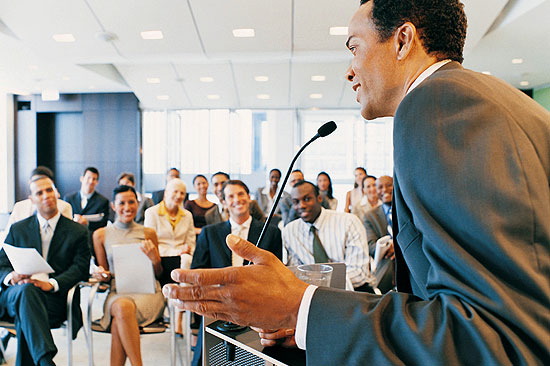 A speaker's ability to motivate is the hidden treasure in any presentation. Without it, many presentations fail no matter how good they might be. Lackluster speaking skills and unpolished scripts can still be presented well when motivation and passion shines through in the delivery! How do you measure up? 95% of your speaking engagement requires engaging an audience who may or may not want to be there and it is up to you to draw them into your presentation.
Engaging your audience requires the professional speaker to make solid connections with every single person in the room. While addressing the masses, the speaker is able to relate individually to each person and speak into their hearts and minds. A real change is made in the audience as they receive the information they have been given.
External influences impact the success of engaging your audience in your presentation. Your tone of voice should clearly communicate your passion and excitement about the topic you're speaking on. Your attire should communicate a relatable degree of professionalism. Additionally, it should also establish you as a leader or subject matter expert. Your body language should not contradict your excitement, but should exude confidence and power as you address your audience.
People are drawn in to your message when you add the personal touch to your presentation. Here are some things you can do to add the personal touch to your presentation.
1. Appeal to the emotional aspect of the problem you present. What drives someone to feel that they have to attend your speaking engagement? Address the fear, the fulfillment of reaching dreams and goals and also the pain that comes when setbacks occur.
2. Get your audience to talk about themselves. Have them talk about their experiences. Have them share the way they feel about problems and issues they have concerning your topic.
3. Talk about real life experiences. Talk about what you or others went through in dealing with your subject (i.e. – the chaotic experiences of managing lifestyle, problems faced when dealing with implementing your solutions, etc.)
4. Make eye contact with as many audience members as possible. Your audience needs to feel like you're speaking directly to them. Eye contact is one of those subtle one-on-one connections that cannot be bypassed.
5. Be a resource for your audience. Don't be afraid to give more information than your presentation allows. Answer all questions that are asked. Ensure that the solutions you present are simple to implement in anyone's lifestyle.
Drawing people into your presentation will ensure that you are able to connect with your audience. By making your audience a part of your presentation, they will be more attentive to what you have to say and will be more likely to take action on what you've discussed. Motivation comes as a result of making an individual connection with your audience. Not only will your information pass to your audience, but so will your passion for the topic you're speaking pass on as well. You can be a powerful speaker that gets results! Start today to practice drawing people into your presentation!
Tracy Repchuk
Bestselling Author of 31 Days to Millionaire Marketing Miracles
PS – If you need your websites and marketing done for you – go to www.MarketingSolutionsForBusiness.com and get started by getting your free guide – Business SEO SOS – What Every Business Should Know About Internet Marketing
PPS – If you need to understand the landscape for how to move your business online or attract more customers, make more money, more easily – get a copy of my book at http://www.Just31Days.com
PPPS – Do you need an Internet Marketing, Social Media or Business Speaker? Check out my site and get in touch to see if I have your dates available – Tracy Repchuk Speaker for Business